About Myko San
Myko San Company is the 1st European producer of professional medicinal mushroom extracts and an industry leader. Dr. Ivan Jakopovich and Marija Jakopovich founded Myko San company in Zagreb, Croatia (European Union) on September 12, 1990.
Myko San's use of medicinal mushrooms follows 3 essential principles:
Only pure medicinal mushrooms are used as raw materials, without any harmful ingredients
The use is based on thousand-years experience from Far Eastern medicinal traditions
The use must be supported by modern scientific research.
Dr. Ivan Jakopovich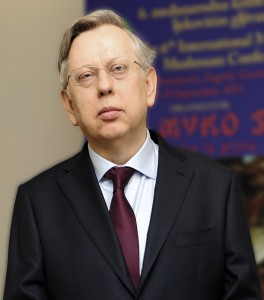 Dr. Ivan Jakopovich, the founder of Myko San, is a leading expert and a recognized authority for medicinal mushrooms and their use. He has been studying mushrooms since 1980, their medicinal properties since 1981, and using them in practice since 1989.
Dr. Jakopovich is a member of the International Society for Mushroom Science, the New York Academy of Sciences, and a member of the editorial board of the International Journal for Medicinal Mushrooms. In 2011, he was the president of the organizing committee of the 6th International Medicinal Mushroom Conference, which was held in Zagreb. For his contribution to science, he was included in the 2013 edition of Marquis's Who's is Who in the World, and 2000 Outstanding Intellectuals of the 21st Century.
Research Contribution of Myko San
Myko San company contributes to medicinal mushroom research. Dr. Jakopovich started medicinal mushroom research in Croatia in 1999 and has since initiated and published 6 research papers, and 3 human cohort studies.
The scientific community recognized the expertise and reputation of Myko San. In 2011, we hosted and organized the 6th International Medicinal Mushroom Conference in Zagreb. This is the most important scientific conference on medicinal mushrooms and Myko San is the first and, so far, the only European company that has received this honor.
Legal Company Name:
Dr Myko San – Health from Mushrooms Ltd.
Registered at:
Commercial Court in Zagreb, Tt95/33241-11
Company Tax Number:
HR04343232471
Company HQ Address:
Vijenac F. Gotovca 8, 10010 Zagreb, Croatia, EU
Sales Address:
Miramarska cesta 109, 10000 Zagreb, Croatia, EU
Phone: +385.1.466.00.95 (9am-5pm CET)
Email: [email protected], [email protected]